Understand how many visitors comes to the shop: This product grasps efficiency at shops by confirming visitors who did not purchase that POS cannot verify.

This system visualizes variable visitors in each day and time, and enhances efficiency in shop operations.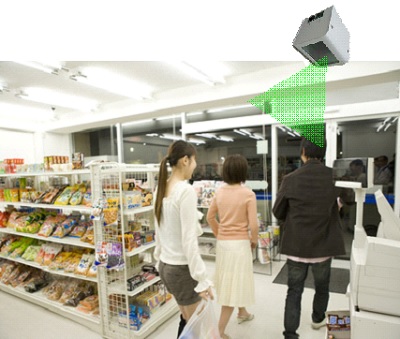 Features
Just install the camera and you can use this system right away.
   Tabulation servers and PC software are unnecessary. Web browsers allow users to check the settings and aggregate results.
Compact and light-weighted design with low power consumption
   Dimensions: 58 mm (W) × 56 mm (H) × 58 mm (D)
   Weight: 250 g and less
   Battery operation is also available and you can set the device anywhere you want.
Compatibility with existing systems
   The results of counting people can be saved and accumulated in SD cards in the CSV file format and also can be acquired via web brouwers.
   This general-purpose file format makes it easy to connect with exiting POS systems.
System configuration
Users can browse the results of counting people from all computers by connecting a camera with the network.