This camera analyzes visitors at shops automatically.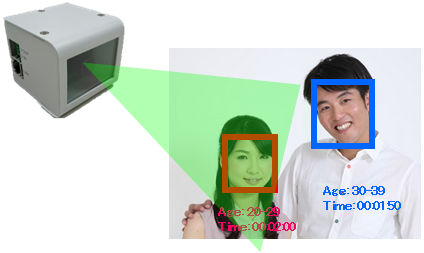 A standalone operation is available due to the structure to accumulate data in the system unit.
It is operable if users have a power source and can be used under various circumstances.
Features
Just install the camera and you can use this system right away.
   Tabulation servers and PC software are unnecessary.
Web browsers including Internet Explorer allow users to
check the aggregate results.
Compact and light-weighted design with low power consumption
   Dimensions: 64mm (W) × 62 mm (H) × 40 mm (D)
   Weight: 160 g
   Battery operation is also available and you can set the device anywhere you want.
Compatibility with existing systems
  Agreegated results are output in the CSV file format.
System configuration
You can set this device anywhere you want if you have a power source.