MIPI IP core series list
Series

Core

D-PHY

Rx

Tx

Number of

Lane

Transmission rate

(bps/Lane)

CSI-2 series

SHSA0001

○

○

-

1-4

80M~1500M

SHSA0002

○

-

○

1-4

80M~1500M

DSI series

To be develoed

○

○

-

1-4

80M~1500M

To be develoed

○

-

○

1-4
80M~1500M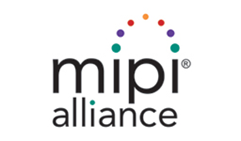 MIPI IP core
MIPI CSI-2 IP and MIPI DSI IP core comply with the MIPI standerd and they work on FPGA.
They forward serial data from Camera to Application Processer.


Features
Complying with MIPI alliance standard.
Supports various image formats. Realize full high vision display speed.
This IP has PPI(Phy Protocol I/F) and , it's possible to supply only either LINK layer or PHY layer.



Purposes
Mobile device, overall industrial instrument using FPGA