Features
Offer custom lens development
Carry out entrusted module development based around image processing.
Offer ASIC development to allow product differentiation.
Provide total support for everything from specification design to substrate mounting.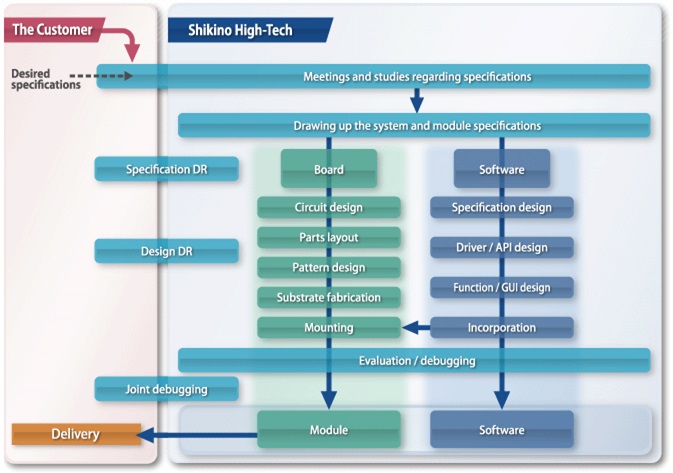 Reliability and security based on our excellent track record
Focusing on custom cameras and image processing modules, we offer everything from design and development to substrate mounting.
Compact camera module
Biometric identification
module
High-speed data transfer
module

Click here for our achievements
High technical capability and reliable support
Specification design and system design
Circuit design and artwork design
FPGA design (Verilog-HDL and VHDL), ASIC development (digital/ analog LSIs)
Development of firmware and application software
Development of customized lenses
High-quality manufacturing system implemented by our domestic factories in Japan
Employees who have passed certification tests on electronic component assembly skills or on JAXA-certified micro-soldering skills (JAXA: Japan Aerospace Exploration Agency)
Technical support provided by engineers specializing in cameras, in addition to those specializing in hardware, software, or LSI
Quality assurance system by our quality control department
Support for flexible customization
Handle prototype production and small-lot batch production.
Offer housing design and production.
Take on design work at any phase in the process
Main equipment
Board design
ZUKEN CR5000, PADS Power-PCB system, Mentor Expedition PCB and Cadlus
Mounting equipment
Solder printing
Automatic paste printing machines: Horizon02i (510 × 508 × 6.0 mm) and ELA264 (510 × 508 × 6.0 mm)
Element placement
Mounter: MY-15 (620 × 750 × 6.0 mm)
Reflow soldering
Reflow furnace (forced convection): NV-12N (457 × 470 × 1.6 mm)
Reflow furnace (hot air on upper surface and far infrared rays on lower surface): NRY-550PW-7 (510 × 610 × 6.0 mm)
Flow soldering
Automatic jet solder bath: YSM-813DS (350 × 610 × 1.6 mm)
Automatic static solder bath: UDS-500L (500 × 610 × 1.6 mm)